Effortless therapy on the go ~
like foam rollers for your feet.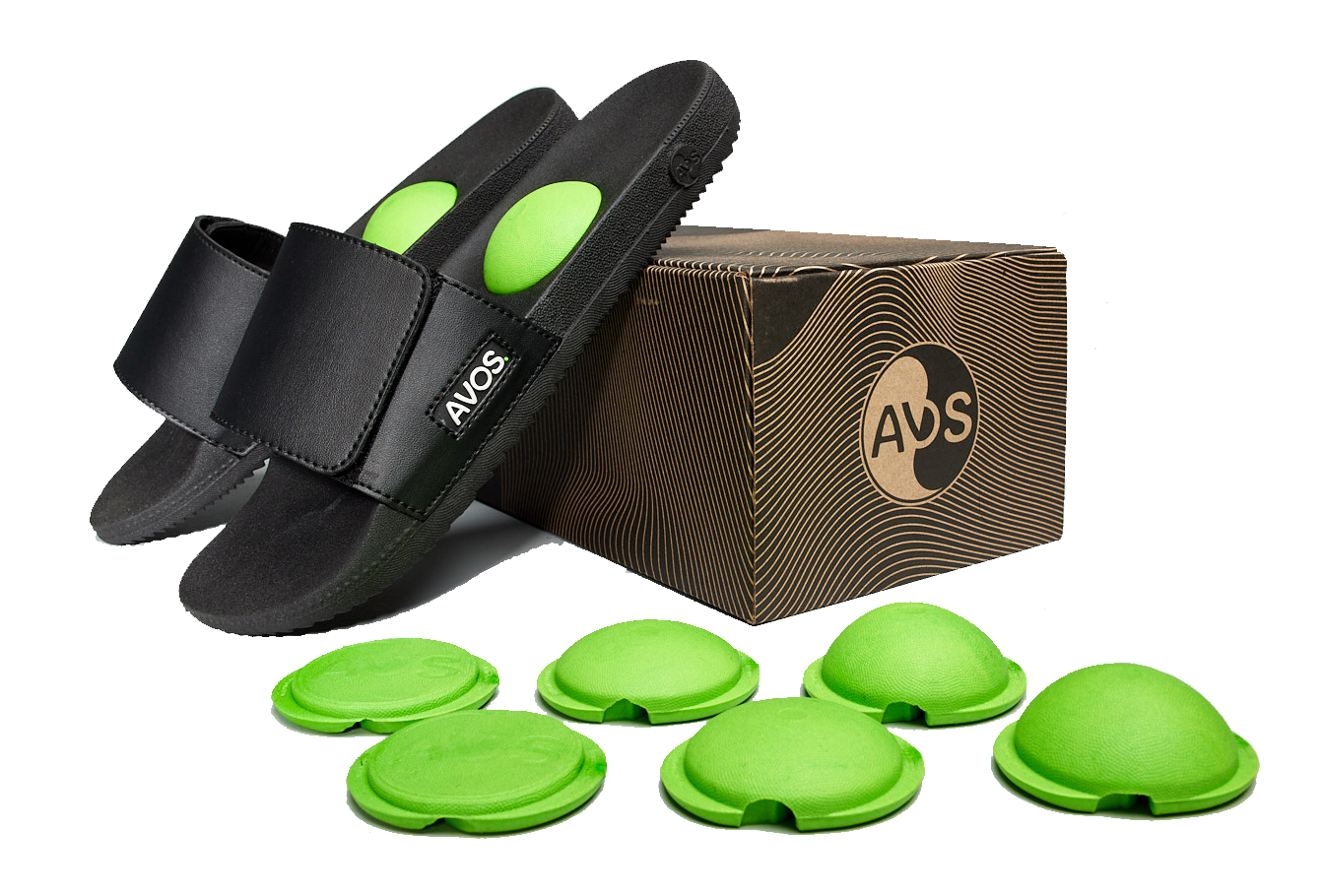 AVOS Therapy Slides provide an easy, effective solution to the chore of daily physical therapy achieving similar results while remaining mobile. Regular stretching helps to optimize physical performance and decreases the potential for injury from stiff muscles.
AVOS help create a conscious awareness of physical well-being in a fun & effortless way.
AVOS Therapy Slides provide an easy, effective solution to the chore of daily physical therapy achieving similar results while remaining mobile. Regular stretching helps to optimize physical performance and decreases the potential for injury from stiff muscles.
AVOS help create a conscious awareness of physical well-being in a fun & effortless way.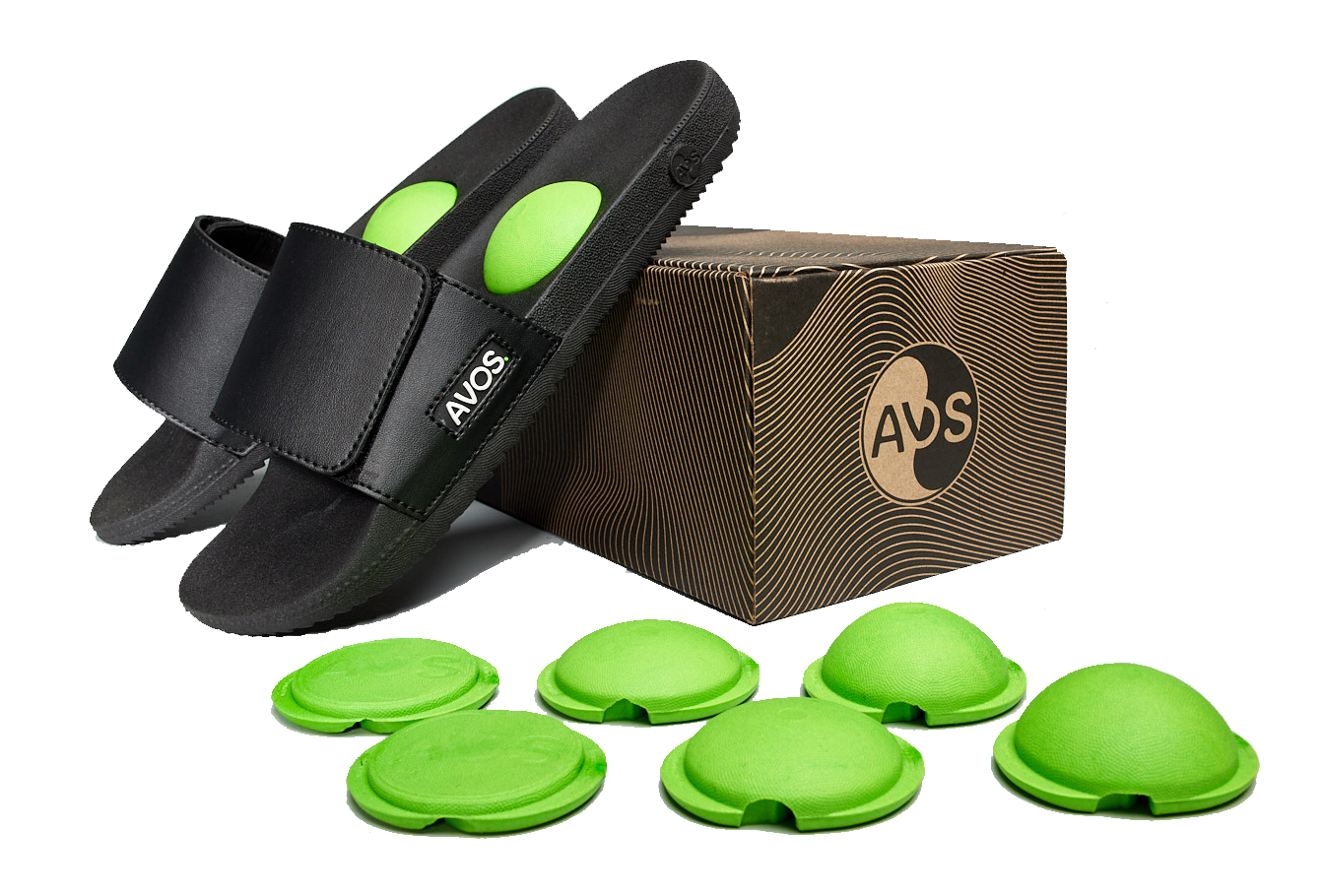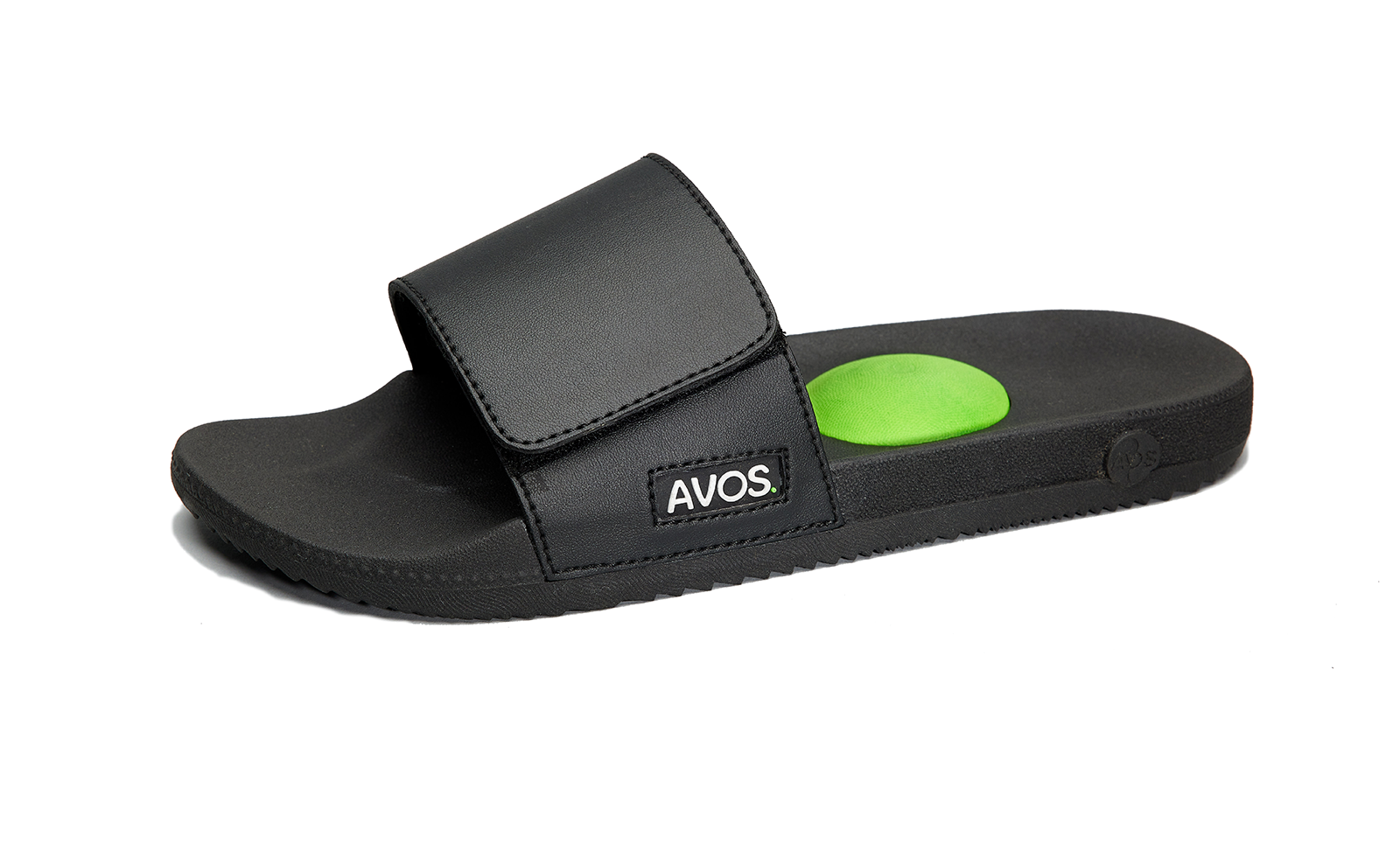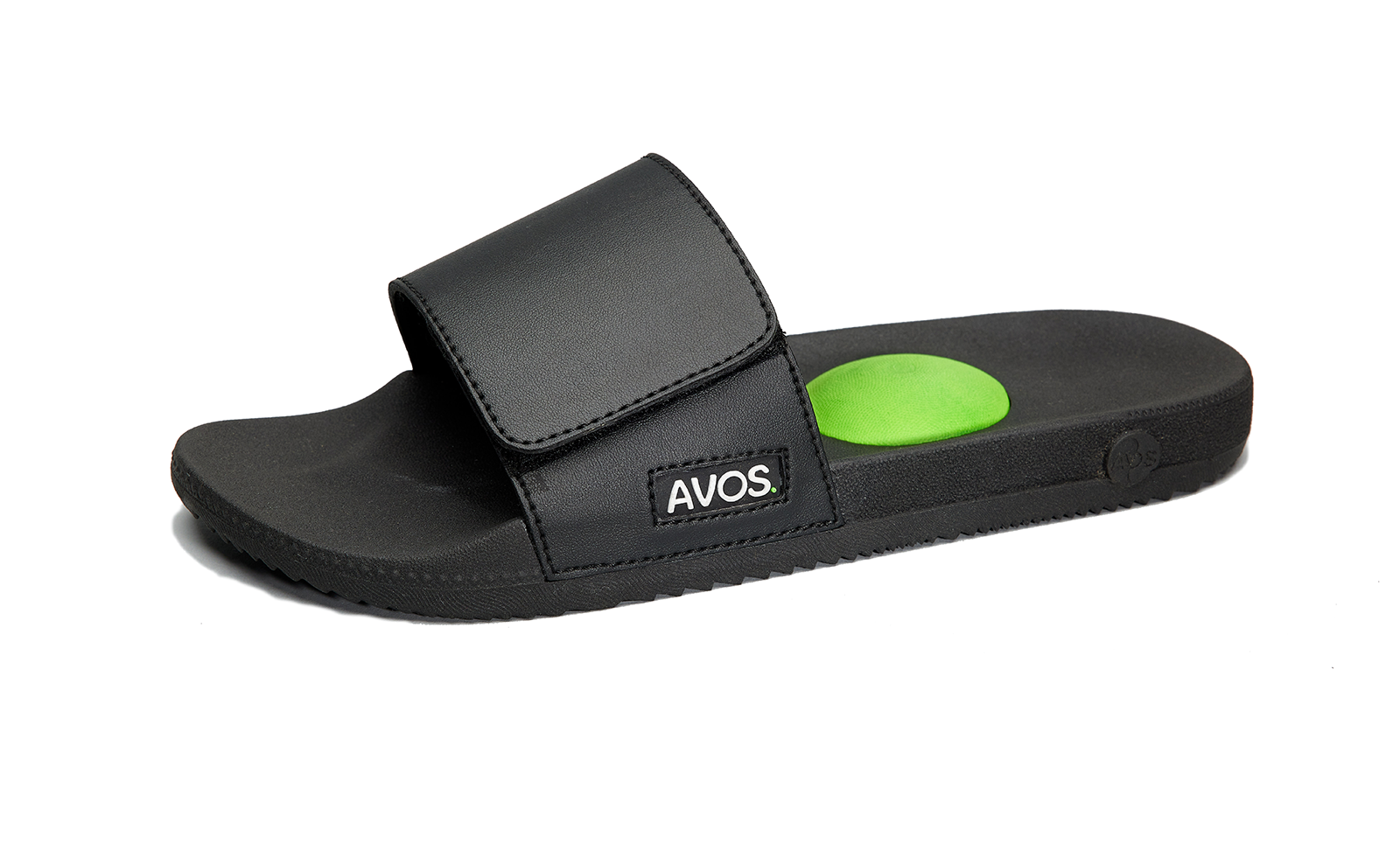 Therapy Slides
Durable, slip resistant outsole. Premium materials and craftsmanship
Semi-soft Inserts
3 sizes of semi-soft ball shaped inserts included for every type of foot and pressure sensitivity
Velcro Strap
Premium velcro strap giving that perfect fit every time!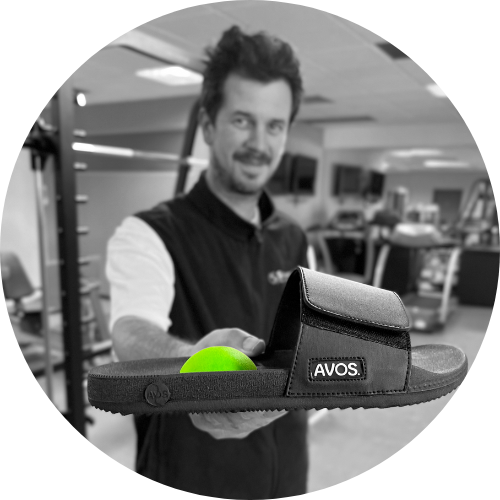 "The AVOS Slides are a great way to improve arch tightness and symptoms related to plantar fasciitis"
- Dr. Kyle Brown, DPT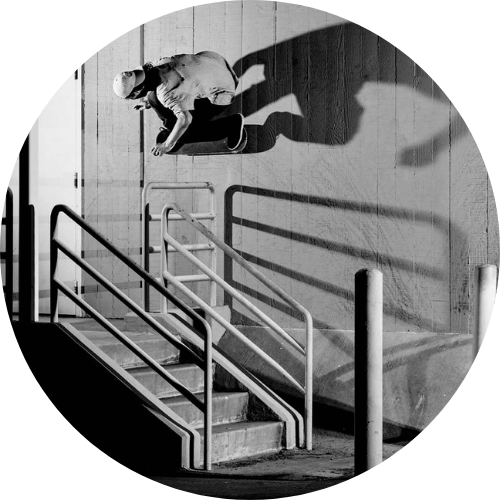 "I created the first pair of AVOS to help keep myself skating as much as possible. They ended up working so well I had to share."
- Shawn Hale, Pro Skater & Creator AVOS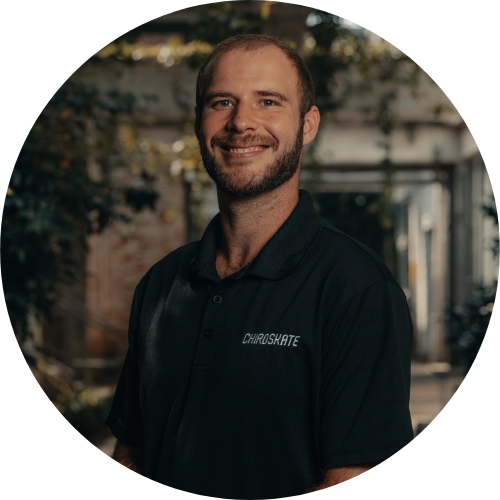 "AVOS nailed it with this product! I can say after using AVOS for the past 5 days, that I am very pleased with the results they have provided. I typically would use a mobility ball to help relieve tension on the bottoms of my feet, but these guys have done that just walking around in them."
- Dr. Shawn Robinson
*Backorder on select sizes due to high demand - Expected to ship October 2023
All that scar tissue in my foot is almost GONE in two weeks🤯 been wearing them for 45 mins a day, which is more than I usually do, and I noticed a huge difference!
My heel spurs got so bad it was very painful to walk barefoot. I started using AVOS and they felt great. A couple months later I noticed I could walk barefoot pain free!
Bought my pair with high hopes and I was still blown away by everything from presentation to quality to how well they ultimately work! I would suggest a pair of these to every skater pre or post injury! Just a good tool and slide to keep with you throughout the years!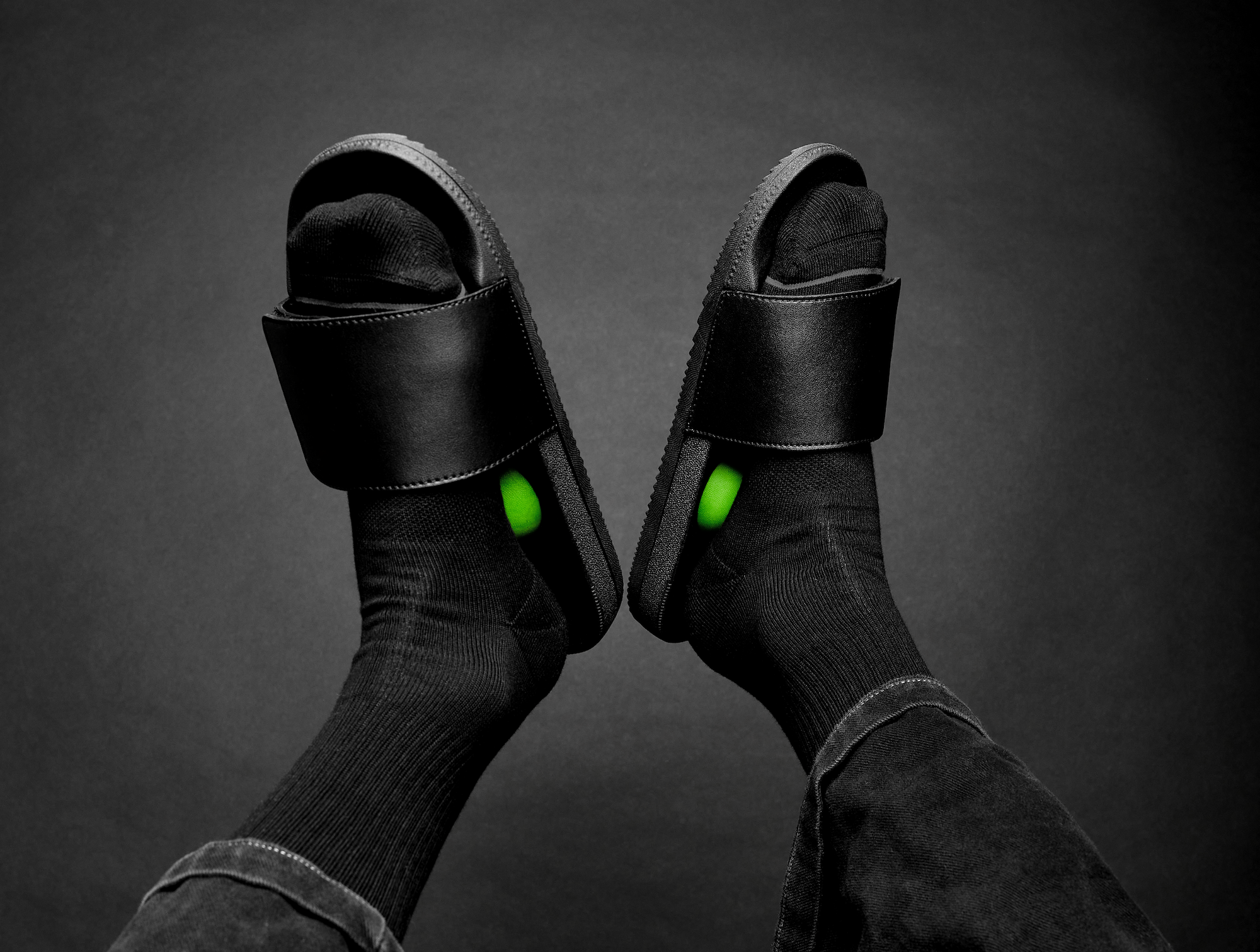 15 Minutes
is all it takes to improve circulation, relieve tension & help prevent potential injury
AVOS (like an avocado cut in half) are therapy slides that make it easy to achieve a gentle manual stimulation of the plantar fascia (sole/arch of foot) by simply wearing them for 5-15 minutes a day.
AVOS work by lengthening the muscle fibers through massage/myofascial release, which treat skeletal muscle immobility and pain by relaxing contracted muscles, improving blood and lymphatic circulation and stimulating the stretch reflex in muscles. The goal is to increase flexibility and reduce the chance of injury.
AVOS are great for stretching and preparing your feet for activity. You may want to use them in the morning to prepare for the day, as a warm up shoe directly before activity, or before bedtime, whatever you prefer. You can also use them as normal slides with the included flat insert. ‍

DO NOT use while driving, operating machinery, using stairs, riding a bike, etc. Do not use the inserts for longer than recommended. Stop use if pain occurs. Please use on flat ground only.
What size insert do I use?

Included with every pair are inserts with 3 size options - Lo, Mid, & Hi, to accomidate everyones unique pressure sensitivities. Start using your AVOS with the Lo insert and adjust to your own preference. Although we include Lo, Mid, & Hi, that doesn't necessarily mean the goal is to use the Hi insert. We merely provide the option to accommodate everyone with flat arches to high arches. ‍

Injuries can be tricky and we always recommend talking to your physician.
How do AVOS fit compared to other shoe brands?

We get this question a lot. We used the same sizing format as Nike/Converse shoes. If you are hesitant on what size to order - we always recommend to chose the next size up. If you wear a 10.5, try the 11. It's better to have room for adjustment rather than be too small. AVOS are meant to be used primarily in "therapy mode."
What is Plantar Fasciitis?

Most people don't realize they suffer from various degrees of plantar fasciitis (plan·taar fa·shee·ai·tuhs). It is one of the most common cause of foot pain and can lead to many other issues. Plantar fasciitis is an inflammation of the fibrous tissue (plantar fascia) along the bottom of your foot that connects your heel bone to your toes. Plantar fasciitis can cause intense heel pain along with a range of issues throughout the body when your feet are not functioning properly.
What if I don't have Plantar Fasciitis?

Great! AVOS are meant to help prevent issues like plantar fasciitis. You don't need to have an injury to use AVOS- they are meant to help maintain optimal foot function and add to your at-home therapy and exercise routines.
Ankle injuries, limping, and the need of proper foot care after injury-

Ankle injuries are all too common for athletes and non athletes alike. Recovering from a sprain or worse can often take months. During this phase we cannot use our feet properly and may need to limp to avoid pain. Limping causes a person to walk abnormally, putting undue stress on many body parts and can lead to plantar fasciitis and other issues. The tennis ball technique is widely known to improve tightness in the foot, calf, lower and upper back.

This is why so many doctors and physical therapists will recommend their patients to be diligent about maintaining proper foot function after an injury. Favoring one foot during an injury causes an imbalance in muscle use.

Wearing AVOS directly after a foot/ankle sprain can help release added tension that may be affecting an injury. If an injury becomes more painful, do not use.

Improving foot function and building strength are our best options to help lessen the chance that injury may occur.
We ship all US orders via FedEx. You will receive shipment updates by providing your email address. International shipments are shipped via DHL.
Please use at your own discretion, best judgement, and consult a doctor when necessary.

Troubleshooting Tips: 

1. Avos are most impactful when used after a long day or workout when your body is sore. This is the best time to try your Avos and may significantly feel more beneficial.

2. Be sure to use the smallest size ball shaped insert that feels good to make sure they don't cause pain. The goal is a "feel good" stretch which can result from the smallest insert. Depending on your weight and pressure sensitivity, the ball insert may feel stiff and need time to break in. This can be accomplished as you use them or alternatively, you can place something heavy on the inserts overnight to soften them faster.

3. The shoe is basically a mobile platform for a recovery ball meant to be used for short durations to make it as easy as possible to work on the feet. When standing in place you can slide your foot back to put pressure on the ball of your foot or target other key areas. 

4. The biggest difference between Avos and a normal recovery ball is the ease of consistency. This helps to recover from mild to chronic issues that benefit from light, consistent, daily massage. Even a small amount of massage from the smaller size insert may help break up scar tissue and increase blood flow, bring vital nutrients that help with healing.

5. Some customers report that their Avos can be painful at first. After consistent use with a small size ball insert, you may notice the ball insert is less painful than before and you may begin preferring the next higher insert. 

6. Socks can help relieve chaffing if this is an issue for you. Remember your Avos are intended as a tool for better health.
The name AVOS (Ah-vos) comes from the product resembling halved avocados.

Our "yin-yang" logo was inspired by a tennis ball. If you rotate a tennis ball you can find the angle we saw. ‍

AVOS were born in skateboarding. The aggresive and often brutal nature of skateboarding leads to many injuries, making skateboarding a great testing ground for all sorts of therapeutic techniques. ‍

We've worked hard to bring you a product that proactively treats foot injuries while staying mobile, saving you time and energy - your most valuable resources. ‍

The insert is green like a tennis ball to remind you of their intended use. ‍

Pets love AVOS inserts if you leave them laying around. We include a bag for the inserts to keep them safe.

AVOS are upgradable! Would you like an ice or heat version of the insert?? Let us know on IG ❄️🔥 @avos.therapy
Contact Us
Do you have any questions?